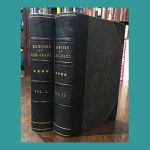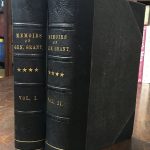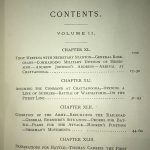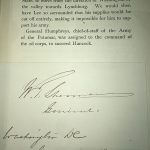 Ulysses S. Grant, Personal Memoirs of U. S. Grant, 1st ed, Extra Illustrated
$4,500.00
Grant's Memoirs-With Signatures!
In stock
Description
The Personal Memoirs of U.S. Grant, rebound in black leather, with autographs of Civil War personalities included.
The creator, Albert Edgerly, Ewas President of the New Hampshire Genealogical Society and a prominent lawyer in N.Y.; his library comprised over 2,500 volumes including these. Extra-Illustrated with Autograph Signatures pasted in.  Signatures included: 1) "W. T. Sherman / General" on Hd. Qr. Army of the  U. S. letterhead; 2) "The supremacy of law is liberty. / Jefferson Davis / Beauvoir, Missi. / 22d March 1882″ on slip of paper; 3)  "Your Truly / B. Harrison" clipped from the bottom of a letter with two end lines in his hand; 4)  "R. E. Lee" clipped signature from a check or document; 5)  "Geo. H. Thomas / Maj. Gen. U.S.A. / June 1, 1857″ clip from an autograph book; 6)  "W. T. Sherman / General / Washington, DC / March 12, 1877″ probably clipped from an autograph book; 7) "P. H. Sheridan / Lieut. General" on a card. A printed signature of Grant himself, with date, is also present, but could be replaced.
A beautiful set for the shelf, in excellent condition with the gilt bright.
Grant, Ulysses S.  PERSONAL MEMOIRS OF U. S. GRANT.  New York:  Charles L. Webster & Co., 1885.  1st edition; 2 volumes; maps intact.  Handsomely rebound in 3/4 -black morocco leather; gilt spine lettering and 4 shoulder-strap stars.   Copy of "James A(lbert) Edgerly" (1846-1908), signed in volume 2 with date, May 15, 1886.