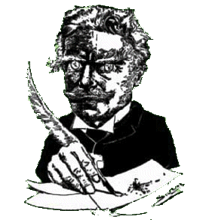 1 March 2016
Most of us encounter the influential short story An Occurrence at Owl Creek Bridge in our high school literature classes. Lit teachers like to assign Ambrose Bierce's haunting tale of psychological terror because of its innovative use of plot devices, and its manipulation of time. These were groundbreaking approaches to fiction writing at the time of publication. Most of us like Occurrence at Owl Creek Bridge because it is a horror story with a crazy twist. Also, because of its popularity with our favorite high school English teachers, it may have been the first story we ever read that really freaked us out. The darkness of Ambrose Bierce's short stories forecasts the psychological horror of Stephen King.
Ambrose Gwinnett Bierce (1842-1914?) was born in the southern Ohio hill country of Meigs County, the youngest of ten children. The poor family of religious fundamentalists soon moved to Indiana where the boy grew to a young man of rebellious temperament. That rebelliousness contributed to his early enlistment in the Union Army. As a sergeant and lieutenant in the 9th Indiana Infantry, Bierce served in the ranks for two years, fighting in small campaigns in West Virginia, and then in large battles, such as Shiloh and Stones River. A promotion moved Lieutenant Bierce from the 9th Indiana to the staff of General William B. Hazen. Staff work provided the adventurous young man plenty of opportunities to seek out dangerous adventures, and to see a greater scope of the war than would otherwise be possible for a subaltern.
The end of the war saw Bierce briefly employed by the Treasury Department in Reconstruction Alabama, a job that was, in many ways, more dangerous than combat. An offer to accompany his old boss, Hazen, on an expedition to the west coast induced him to give up government employment, and take up the profession of journalism. As a journalist in San Francisco Bierce cultivated the acerbic voice and the love of irony that later marked his fiction. His first foray into publishing fiction (he was already an established journalist and political commentator), resulted in the collection of short stories, Tales of Soldiers and Civilians (1891).
The first edition of the collection did not catch on with the reading public, but subsequent printings, published with the title In the Midst of Life: Tales of Soldiers and Civilians took off, selling tens of thousands of copies. The book finally catapulted Bierce to national attention as a writer whose fiction qualified as fine literature.
The itch for adventure never left Bierce, and, famously, led to his demise, likely in 1914, and likely in Mexico, where the seventy-two year old writer had gone to report on Pancho Villa. What actually happened to Bierce is still a mystery.
Our copy of Tales of Soldiers and Civilians provides the collector whose fascination embraces the history of the Civil War and pioneering American literature with a fine shelf-prize. The true first edition, identifiable not only by the 1891 publication date, but by the use of the more prosaic title that was later used as the sub-title, makes this particular copy of Bierce's ground-breaking collection a desirable addition to a collection of great American fiction.