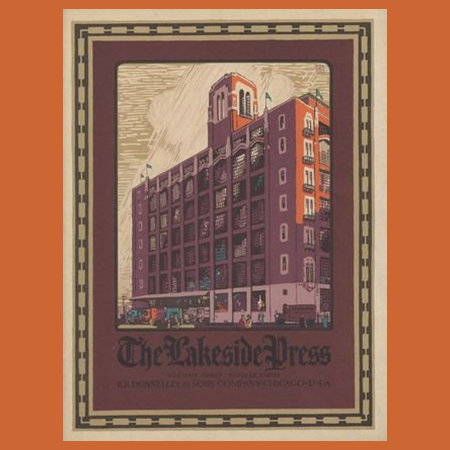 Richard Robert Donnelley opened his Chicago printing company in 1864. In 1870, he changed the name to Lakeside Printing and Publishing Company. Rising from the ashes of the 1871 fire, by 1901 they moved into their own building. Located in today's Printer's Row neighborhood, the building is architect Howard Van Doren Shaw's very first design of a commercial building. The building would be listed on the National Register of Historic Places in 1976.
Lakeside Press had two avenues of business. Fine printing and binding, producing books for organizations like the Caxton Club and the Limited Editions Club; and mass commercial printing. The Sears Catalog was such a big client, that Lakeside Press dedicated an entire plant to the project.
R. R. Donnelley passed away in 1899, leaving it to his son Thomas E. Donnelley. In 1903, Thomas received a Christmas gift of a set fine razors from a supplier. This gift gave him an idea. He wanted to produce a book for clients and employees for Christmas. It would feature the company's finest work and become a lasting legacy, too.
Donnelley believed a simple, well-designed book, would reflect the press' mission perfectly. Donnelly's introduction in the first volume succinctly states his desire for these books: "If, in a modest way this volume conveys the idea that machine-made books are not a crime against art, and that books may be plain but good, and good though not costly, its mission has been accomplished."
In 2019, due to a series of mergers and acquisitions, the Lakeside Classics series was discontinued.
Today, these books are highly sought, collector's items. Having an entire set will get you bragging rights in any collector's circle. Full sets are hard to find; even more difficult to find in good, solid condition. We are fortunate to have a set right now.
Daniel Weinberg talked more about the Lakeside Classics here at the book shop. Take a Look!