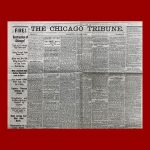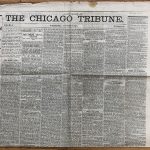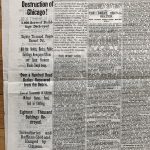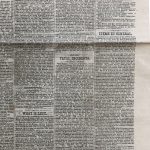 Chicago Tribune, Oct 11, 1871, The Great Chicago Fire!
$3,800.00
The First Issue of the Chicago Tribune
Printed After The Great Chicago Fire
This product requires special shipping considerations. Shipping and insurance charges are additional.
Questions
Call (312) 944-3085 or email us here.
Reserve Item
Description
The Chicago Tribune, from October 11, 1871; the first issue after The Great Chicago Fire.
Exhaustive, early coverage of the conflagration of three days previous. The sheer magnitude and loss of the calamity is highlighted in geographical detail as to the breadth of the disaster. Some credence given to the well-traveled lore as to the fire beginning in a "cow-barn" at the corner of DeKoven and Jefferson Streets "before any aid could be extended." Even at this juncture, comparisons are made with the "great fires of history", inclusive of those in London and New York previously. That aside, the TRIBUNE announces its new temporary headquarters where the newspaper "will be issued from that place until further notice." In a similar encouraging tone, the editors entice the readers to (ironically)"Cheer Up! Chicago Shall Rise Again!" And so it did, reinforcing the well-known Chicago adage of "I will." Advertisements grace two columns on the verso A unique, untrimmed edition printed below south of Chicago, which, because of the prevailing wind, was spared; and where printing presses could still be found.
Fine and fresh. Rare, especially being untrimmed.
THE CHICAGO TRIBUNE. 11 October 1871. Folio; 1-1/3p. on one sheet. Vol. 2, No. 66. "FIRE! / DESTRUCTION OF CHICAGO! / 2,600 ACRES OF BUILDINGS DESTROYED / EIGHTY THOUSAND PEOPLE BURNED OUT … OVER A HUNDRED DEAD … INCENDIARIES AND RUFFIANS SHOT AND HANGED BY CITIZENS….."