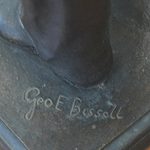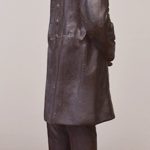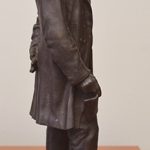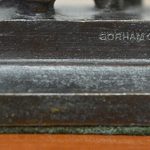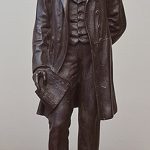 George E. Bissell, The Emancipator, Bronze Statuette, Signed, 5 1/2″
$3,500.00
A Handsome and Evocative Lincoln Image
This product requires special shipping considerations. Shipping and insurance charges are additional.
Questions
Call (312) 944-3085 or email us here.
Reserve Item
Description
George Bissell modeled this statuette of Abraham Lincoln after the Lincoln statue standing atop the Scottish American Soldier's Monument in Old Calton Burial Ground, Edinburgh, Scotland. The monument was dedicated in 1893 and later replicated at Clermont, Iowa, c1903. Bissell learned sculpting in his father's marble business, following Civil War service with the 23rd Connecticut and as a Navy paymaster. Among his other important public works is the Soldiers and Sailors Monument at Waterbury, Ct. One of the best features of this statue is the way the Emancipation Proclamation is rendered. Words are very clearly incised, along with the solid "A. Lincoln" on the base. Even the seal on the Emancipation Proclamation is clearly decipherable! The piece illustrates sculptor's knack for presenting his subjects in a compelling yet delicately accomplished manner. With its rich, dark-brown patina, this striking — even heroic — statuette is remarkably stirring with its presence. Other sizes are available. 
Bissell, George Edwin (American; 1839-1920) Hollow-cast Bronze Statuette of "Lincoln: The Emancipator".  5 1/2″ stepped base, which bears incised sculptor's name and 1898 copyright; Gorham Co. foundry mark stamped on the side.  Produced in the desirable "lost wax" method.