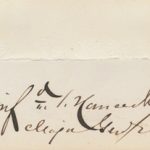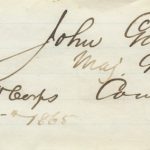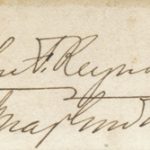 Gettysburg – Union Generals Collection
$3,500.00
Six Gettysburg Generals
Ready to Frame!
This product might require additional shipping/packaging charges. Should this be the case, we contact you before shipping your order.
Questions
Call (312) 944-3085 or email us here.
Description
A Collection of Six Union Generals, each participated in the Battle of Gettysburg.
Each signature is accompanied by an original pencil drawing of the general (we are showing only Reynolds here to save space. The rest look very similar) plus an engraved name plate.
As well, the collection is further enhanced with an original drawing produced for the famed BATTLES AND LEADERS 4-volume set: crossed "Officer's Swords," one a cavalry officer's sabre and the other a foot officer's infantry sword.
Excellent condition.  
Gettysburg: Union Generals Collection. Six Autograph Signatures: George G. Meade clipped with salutation and rank (commanded Army of the Potomac); Winfield S. Hancock clipped with rank (commanded 2nd Corps); Daniel E.Sickles on a full check(commanded 3rd Corps); Henry W. Slocum, on a card (commanded 12th Corps); John Gibbon clipped with rank and date (repelled Pickett's Charge); and John F. Reynolds clipped (killed on the first day's battlefield).