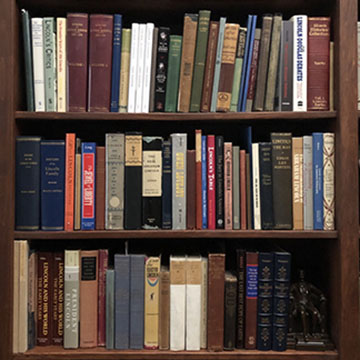 We endeavor to offer a new Book List every month, depending on our workload in the shop. The link to the latest list is below. The Catalogs are below the Book List. Below that, you will find our Bibliographies.
When ordering, please be prepared to provide the month and year of the list, along with the item number, author and title. 
Join our Email List or follow us on Facebook. You'll hear about the Book List, know who's coming on A House Divided and all the other exciting news from the shop.
The Monthly Book List
October 2023 – American History Books
July 2023 Book List – Gettysburg
April 2023 Book List – Lakeside Classics – Blue Series
February 2023 Book List Lincoln and More
January 2023 Book List – Lakeside Classics – Red Series
November 2022 Book List – Great Gifts and Illustrated and Ltd Ed. Books
October 2022 Book List – Great Gifts 
September 2022 Book List – U.S. Presidents
August 2022 Book List – Naval History and More
July 2022 Book List – Gettysburg 
June 2022 Book List – Custer and More
May 2022 Book List
September 2021 – Featuring Titles of Confederate Biography and Memoirs (A-H)
February – August 2021 – Consolidated List 
If you see something you want or have any questions give us a call (312/944-3085) or get in touch via email. We are here to sell books or answer any questions.
The Latest Catalogs
Download Catalog 188 – Updated July 6, 2023
Download Catalog 187 – Updated December 6, 2022
Download Catalog 186 – Updated August 3, 2022
Download Catalog 185 – Updated November 29, 2021
Download Catalog 184 – Updated December 13, 2021
Download Catalog 183 – Updated January 7, 2020
Request a Sample Catalog 
Our Bibliographies
Essential Lincoln Book Shelf  The Lincoln collector, confronted with approximately 10,000 books and pamphlets relating to Abraham Lincoln, must wonder if he has tackled too vast a subject. To address this problem, we offer our Essential Lincoln Book Shelf.
Essential Presidential Book Shelf Here are the biographies of the men who have for over two hundred years dominated American history.