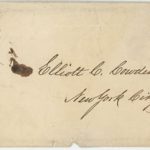 J. H. Hobart Ward, Autograph Letter, Signed as Brigadier General
$695.00
Wounded at Gettysburg, Seeking a Promotion to Major General
This product might require additional shipping/packaging charges. Should this be the case, we contact you before shipping your order.
Questions
Call (312) 944-3085 or email us here.
Description
J.H. Hobart Ward, Autograph Letter; being an exceptional letter laying bare the politics of military promotions.
Written by Ward just a month after his noted performance at the Battle of Gettysburg, he appeals to Elliot Cowdin, an influential New York politician, and his other friends, to help him gain promotion. As a longtime veteran, he sees himself passed over by those with little or no experience of battle, but with political connections, whereas he has served in both the Mexican American War and in many battles of the Civil War, having been wounded as well as commended often.
"My military and Civic friends insist that I have no right to allow my inferiors in rank, capacity, and merit, to obtain position above me by reason of inertia on my past. I have resisted for some time these repented efforts of my friends, and now intend to take the other course. For this reason, I now make this appeal to you and my friends in NY to aid me in further advancement. This is not done through Egotism, or inordinate ambition on my part, but a desire to retain my military status in this army. I am now outnumbered by many who have never been in a battle, and I presume, if they can avoid it, never will."
He cites, among others, Generals McClellan, Sickles, Birney, and Kearny, as well as the "unanimous voice" of his whole command, as having recommended him for the promotion to Brigadier. He ends with a recap of the battle he has fought in: "During the Mexican War, Fort Brown, Monterey, Vera Cruz, Cerro Gordo, and La Hoga. Total 5. My military career during that campaign, as verified by General Scott, I am justly proud of. During the present rebellion.  Bull Run No. 1, Williamsburg, Fair Oaks, Peach Orchard, Savage Station, Glendale, Malvern Hills, Bull Run No. 2, Chantilly, Fredericksburg, Chancellorsville, and Gettysburg, besides ten skirmishes, including recently Manassas Gap, and Siege of Yorktown." Ward was a native of New York, and entered the U.S. Army as a private in 1842, rising "to the rank of sergeant major in the 7th U.S. Infantry.
During the Mexican War, he was wounded at Monterrey and married a Mexican girl at Vera Cruz. Ward left the army in 1847 and returned to New York, where in the 1850s he served first as assistant to the state's commissary general and then as commissary general. Ward entered Union service in June 1861 as colonel of the 38th New York. He fought at First Manassas and temporarily took command of the brigade in the battle. Afterward, his regiment became part of the Army of the Potomac and fought in the Peninsula Campaign with the II Corps' 3rd Division. At Seven Pines, Ward assumed command of the brigade, but after about a week, he returned to his regiment. He led it through the Seven Days Campaign and at Second Manassas, and at Chantilly he assumed command of David Kirney's III Corps brigade. Promoted to brigadier general of volunteers in October 1862, Ward led his men at Fredericksburg, Chancellorsville, and Gettysburg. At Gettysburg, he was wounded and assumed command of the division on the second day of battle. In the spring of 1864, Ward's division was transferred to the II Corps. He led the brigade at the Wilderness and Spotsylvania and received a second wound in the latter battle. While at Spotsylvania, Ward was relieved of command on charges of being drunk at the Wilderness and for leaving the field.
He had been routinely praised for his service prior to that battle, and the accusations shocked his comrades. Ward was placed under arrest, but he was allowed to be honorably discharged in July 1864. His supporters requested he be restored and court-martialed to clear his name, but officials refused. Ward returned to New York and began a 32-year career as clerk of the state's superior and supreme courts. While vacationing in 1903, he was struck by a train and killed," Jones: Historical Dictionary of the Civil War, p.1523.
Very good, folded, faint marginal soiling
Ward, J. H. Hobart. Autograph Letter Signed as Brig. Gen.  Camp [White] Sulphur Springs, VA:  9 August 1863. 4to.; 4 pp. + stamped envelope.