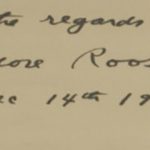 Theodore Roosevelt, Photograph, Inscribed and Signed
$3,500.00
This product requires special shipping considerations. Shipping and insurance charges are additional.
Questions
Call (312) 944-3085 or email us here.
Reserve Item
Description
Offering a Theodore Roosevelt photograph, inscribed and signed. The image of TR is as President.  Signed in a year between the publication of Through the Brazilian Wilderness and his declining the Progressive presidential nomination the following year. The Theodore Roosevelt Center holds a letter to James H. Brown from June 6, 1912. In that letter TR talks thanks Brown for his work in Denver, and talks about the Chicago Convention.
Excellent; powerful tonality and strong ink inscription and signature; small water damage to lower edge of mount does not detract from this handsome example.
Roosevelt, Theodore. Photograph, Inscribed and signed on the mount, "To James H. Brown / with the heartiest good wishes / of / Theodore Roosevelt / Dec. 6th 1915."  Washington:  Harris & Ewing (indicia prominent on mount), (1904).  6-1/2″ x 9-1/2″ photograph placed on a 9-1/2″ x 15-1/2″ mount in a 1-1-2″ period frame.