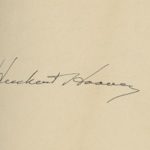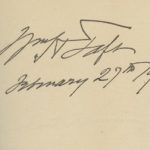 Autograph Album, US Presidents Coolidge, Hoover and Taft, plus VPs and Cabinet Members
$3,500.00
Autograph Album with Presidents Coolidge, Hoover, and Taft
This product might require additional shipping/packaging charges. Should this be the case, we contact you before shipping your order.
Questions
Call (312) 944-3085 or email us here.
This product requires special shipping considerations. Shipping and insurance charges are additional.
Questions
Call (312) 944-3085 or email us here.
Reserve Item
Description
Autograph Album US Presidents Calvin Coolidge, Herbert Hoover and William Taft, plus VPs and Cabinet members. Besides the luminaries mentioned, this 1″-thick album is mostly blank, so future Presidents could be added to make it more interesting and valuable.
Signatures are excellent; album rubbed and cracked hinges repaired.
(Autograph Album) Presidents Calvin Coolidge with VP Charles Dawes and 7 cabinet members, Herbert Hoover with VP Charles Curtis and cabinet members, and William H. Taft "January 27th 1929″.   ½-leather with marbled boards and endsheets.